Distressed Credit Opportunities on Rise Amid Uncertainties in Middle Markets
In the months since the COVID-19 pandemic jolted the global economy, corporate bond markets have evolved into a story of "haves" and "have nots." Credit sold off across the board following economic shutdowns and liquidity shortages. But the subsequent recovery has primarily favored borrowers with large capitalizations, pandemic-resistant businesses, and collateral to pledge in exchange for liquidity to survive. Credits of many smaller-cap and private companies have been and will continue to be left behind. As they burn through their current liquidity, we believe they will ultimately face an environment marked by limited access to liquidity amid uncertainty about economic recovery.
For PIMCO, the early phases of this abrupt cycle provided a potent (yet relatively brief) opportunity to invest in high quality publicly traded credits at dislocated valuations. Now, however, we believe that some of the most attractive risk-adjusted opportunities are shifting toward the private market, where smaller-cap borrowers remain under stress.
In our view, we've entered the early innings of a challenged economic recovery, where we anticipate seeing borrowers with acute liquidity needs and a stream of corporate debt restructurings that will extend over time. These could provide significant opportunities for investors who have the sophistication and resources to navigate complex situations.
AN ENLARGED OPPORTUNITY SET
The heightened opportunity in distressed credit reflects the staggering growth in credit market segments that are now vulnerable to restructurings. As we entered 2020, the size of leveraged finance markets (high yield bonds, bank loans, and private debt) had nearly tripled since 2008, with roughly $2.5 trillion in public market debt plus the recent proliferation of almost $1 trillion in private debt, according to BofA Securities and Credit Suisse, and UBS, respectively.
Given indiscriminately strong markets in recent years, the majority of new debt was issued with weak covenants and large EBITDA adjustments (earnings before interest, taxes, depreciation, and amortization), and it was absorbed by leveraged investment vehicles such as collateralized loan obligations (CLOs), private debt funds, and business development companies (BDCs).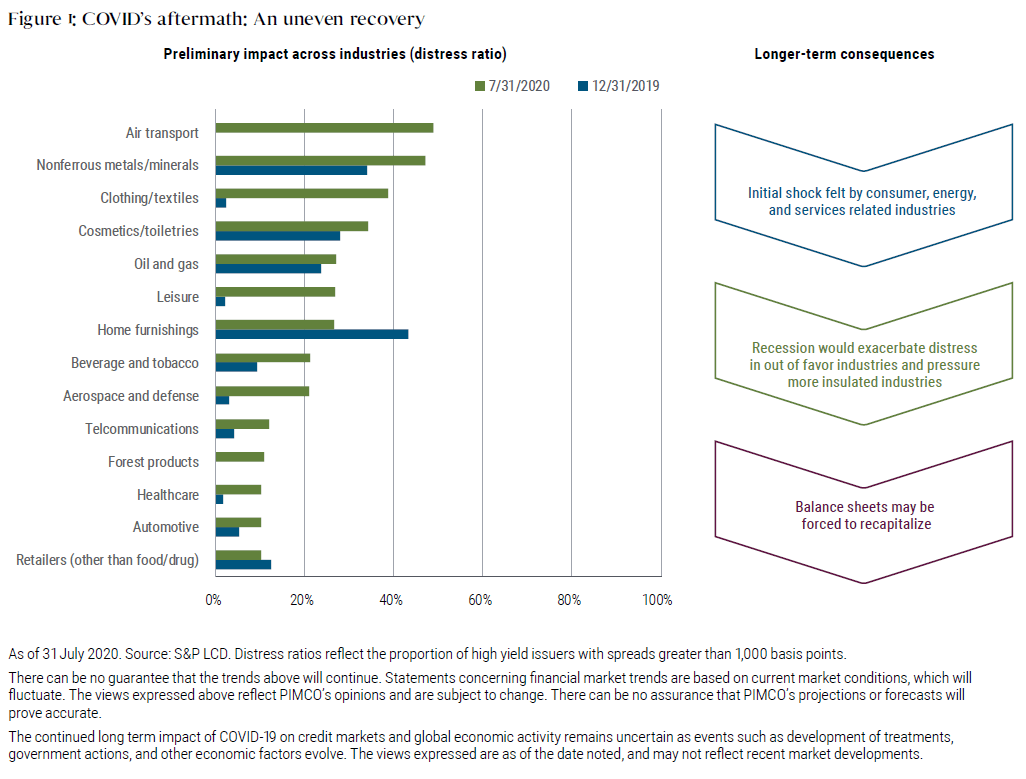 Image Pop Up
Now, with credit rating agencies anticipating a sharp increase in defaults, we see significant stresses developing not only for these middle market borrowers but for the holders of their debt. By design, these leveraged investment vehicles are not equipped to take companies through restructuring, and they cannot continue to hold downgraded and defaulted debt. We believe this presents fertile ground for more opportunistic and credit-intensive investors who are willing to take on the risks and get involved in bankruptcies, restructurings, and capital solution transactions.
In addition to the immensity of today's market, we can make a further contrast with 2008, when policy responses helped many companies overcome their immediate illiquidity challenges. In 2020, although fiscal relief efforts have bought time for some sectors, in general the U.S. government can't do much to solve the problem of companies running out of money.
Although many can turn to financial sponsors for help, a sizable portion will have little choice but to engage financing partners. This is creating a significant and growing pipeline of investment opportunities, particularly for middle market companies that need capital in the range of $50 million to $200 million, the focus of PIMCO's capital solutions efforts.
RESTRUCTURINGS REQUIRE DEEP EXPERTISE
Each of these companies has a unique story with respect to the shocks it has experienced, its capital needs, balance sheet, collateral, and prospects for a recovery in a highly uncertain economic environment. Most seek to work with a seasoned and highly reputable liquidity provider, giving PIMCO a key advantage in sourcing and executing investments in what we believe are the strongest companies with the highest probability of success (see Figure 1).
We prefer investments at the top of the capital structure where we are most secure and can assert influence on the process while negotiating strict covenant packages, with the aim of protecting our rights in all scenarios. We favor credits that can play offense by consolidating their industries or by making capital investments. The credit of conglomerates, for example, have been some of the hardest hit, as the sector's distress ratio rose to over over 70% by mid-2020 from zero at the beginning of the year. These firms aim to set themselves up for success over uncertain multiyear timeframes – rather than simply bridging a brief liquidity shortage. They need capital partners who can collaborate through the unexpected zigs and zags of recovery, even if things don't go exactly to plan.
Although the precise contours of recovery across industries and companies is unclear, we are putting significant effort into investing in companies where our secular outlook favors long- term fundamentals but where COVID-19 has had a profound and immediate impact on operations. Broadly, we are focused on companies that are under considerable stress but which we view as having a high probability of enduring the crisis – including select credits in travel, consumer, housing, and healthcare. We are also taking senior and junior positions in companies that we think are less affected by COVID-19 and can perform well in the current climate.
PIMCO has a significant edge when participating in – or leading – financial restructurings and capital solutions transactions in an effort to create advantageous outcomes for our investors. With 65 corporate credit analysts covering industries vertically across capital structures, we have extensive knowledge of market segments and companies, and conduct ongoing research. Over the past decade, we have achieved leadership roles in some of the largest and most prominent restructurings and generated attractive risk-adjusted returns for investors. We are well positioned to participate and seek to take advantage of the growing stream of restructurings currently taking shape in the market.
---
DISCLOSURES
All investments contain risk and may lose value. Investing in the bond market is subject to risks, including market, interest rate, issuer, credit, inflation risk, and liquidity risk. The value of most bonds and bond strategies are impacted by changes in interest rates. Bonds and bond strategies with longer durations tend to be more sensitive and volatile than those with shorter durations; bond prices generally fall as interest rates rise, and low interest rate environments increase this risk. Reductions in bond counterparty capacity may contribute to decreased market liquidity and increased price volatility. Bond investments may be worth more or less than the original cost when redeemed. Investing in distressed companies (both debt and equity) is speculative and may be subject to greater levels of credit, issuer and liquidity risks, and the repayment of default obligations contains significant uncertainties; such companies may be engaged in restructurings or bankruptcy proceedings. Private credit involves an investment in non-publically traded securities which may be subject to illiquidity risk. Portfolios that invest in private credit may be leveraged and may engage in speculative investment practices that increase the risk of investment loss. Management risk is the risk that the investment techniques and risk analyses applied by PIMCO will not produce the desired results, and that certain policies or developments may affect the investment techniques available to PIMCO in connection with managing the strategy.
There is no guarantee that these investment strategies will work under all market conditions or are appropriate for all investors and each investor should evaluate their ability to invest long-term, especially during periods of downturn in the market.
This material contains statements of opinion and belief. Any views expressed herein are those of PIMCO as of the date indicated, are based on information available to PIMCO as of such date, and are subject to change, without notice, based on market and other conditions. No representation is made or assurance given that such views are correct. PIMCO has no duty or obligation to update the information contained herein.
This material contains the current opinions of the manager and such opinions are subject to change without notice. This material is distributed for informational purposes only and should not be considered as investment advice or a recommendation of any particular security, strategy or investment product. Information contained herein has been obtained from sources believed to be reliable, but not guaranteed.
PIMCO as a general matter provides services to qualified institutions, financial intermediaries and institutional investors. Individual investors should contact their own financial professional to determine the most appropriate investment options for their financial situation. This is not an offer to any person in any jurisdiction where unlawful or unauthorized. | Pacific Investment Management Company LLC, 650 Newport Center Drive, Newport Beach, CA 92660 is regulated by the United States Securities and Exchange Commission. | PIMCO Europe Ltd (Company No. 2604517) and PIMCO Europe Ltd - Italy (Company No. 07533910969) are authorised and regulated by the Financial Conduct Authority (12 Endeavour Square, London E20 1JN) in the UK. The Italy branch is additionally regulated by the Commissione Nazionale per le Società e la Borsa (CONSOB) in accordance with Article 27 of the Italian Consolidated Financial Act. PIMCO Europe Ltd services are available only to professional clients as defined in the Financial Conduct Authority's Handbook and are not available to individual investors, who should not rely on this communication. | PIMCO Europe GmbH (Company No. 192083, Seidlstr. 24-24a, 80335 Munich, Germany), PIMCO Europe GmbH Italian Branch (Company No. 10005170963) and PIMCO Europe GmbH Spanish Branch (N.I.F. W2765338E) are authorised and regulated by the German Federal Financial Supervisory Authority (BaFin) (Marie- Curie-Str. 24-28, 60439 Frankfurt am Main) in Germany in accordance with Section 32 of the German Banking Act (KWG). The Italian Branch and Spanish Branch are additionally supervised by the Commissione Nazionale per le Società e la Borsa (CONSOB) in accordance with Article 27 of the Italian Consolidated Financial Act and the Comisión Nacional del Mercado de Valores (CNMV) in accordance with obligations stipulated in articles 168 and 203 to 224, as well as obligations contained in Tile V, Section I of the Law on the Securities Market (LSM) and in articles 111, 114 and 117 of Royal Decree 217/2008, respectively. The services provided by PIMCO Europe GmbH are available only to professional clients as defined in Section 67 para. 2 German Securities Trading Act (WpHG). They are not available to individual investors, who should not rely on this communication | PIMCO (Schweiz) GmbH (registered in Switzerland, Company No. CH-020.4.038.582-2), Brandschenkestrasse 41, 8002 Zurich, Switzerland, Tel: + 41 44 512 49 10. The services provided by PIMCO (Schweiz) GmbH are not available to individual investors, who should not rely on this communication but contact their financial adviser. | PIMCO Asia Pte Ltd (Registration No. 199804652K) is regulated by the Monetary Authority of Singapore as a holder of a capital markets services licence and an exempt financial adviser. The asset management services and investment products are not available to persons where provision of such services and products is unauthorised. | PIMCO Asia Limited is licensed by the Securities and Futures Commission for Types 1, 4 and 9 regulated activities under the Securities and Futures Ordinance. PIMCO Asia Limited is registered as a cross-border discretionary investment manager with the Financial Supervisory Commission of Korea (Registration No. 08-02-307). The asset management services and investment products are not available to persons where provision of such services and products is unauthorised. | PIMCO Australia Pty Ltd ABN 54 084 280 508, AFSL 246862. This publication has been prepared without taking into account the objectives, financial situation or needs of investors. Before making an investment decision, investors should obtain professional advice and consider whether the information contained herein is appropriate having regard to their objectives, financial situation and needs. | PIMCO Japan Ltd, Financial Instruments Business Registration Number is Director of Kanto Local Finance Bureau (Financial Instruments Firm) No. 382. PIMCO Japan Ltd is a member of Japan Investment Advisers Association and The Investment Trusts Association, Japan. All investments contain risk. There is no guarantee that the principal amount of the investment will be preserved, or that a certain return will be realized; the investment could suffer a loss. All profits and losses incur to the investor. The amounts, maximum amounts and calculation methodologies of each type of fee and expense and their total amounts will vary depending on the investment strategy, the status of investment performance, period of management and outstanding balance of assets and thus such fees and expenses cannot be set forth herein. | PIMCO Taiwan Limited is managed and operated independently. The reference number of business license of the company approved by the competent authority is (109) Jin Guan Tou Gu Xin Zi No. 027. 40F., No.68, Sec. 5, Zhongxiao E. Rd., Xinyi Dist., Taipei City 110, Taiwan (R.O.C.). Tel: +886 2 8729-5500. | PIMCO Canada Corp. (199 Bay Street, Suite 2050, Commerce Court Station, P.O. Box 363, Toronto, ON, M5L 1G2) services and products may only be available in certain provinces or territories of Canada and only through dealers authorized for that purpose. | PIMCO Latin America Av. Brigadeiro Faria Lima 3477, Torre A, 5° andar São Paulo, Brazil 04538-133. | No part of this publication may be reproduced in any form, or referred to in any other publication, without express written permission. PIMCO is a trademark of Allianz Asset Management of America L.P. in the United States and throughout the world. ©2020, PIMCO.
CMR2020-1021-PC490_69565
© PIMCO