All Asset All Access: Tactical Repositioning in a Changing Global Market
SUMMARY
As cross-sectional asset class volatility increases, our All Asset strategies seek to take advantage of price dislocations, as evidenced by a rise in tactical portfolio shifts.
As we've selectively adjusted our risk posture amid this year's turbulent markets, the All Asset strategies have rebounded through 31 July since their lows on 23 March.
Research findings related to momentum turning points and relative value implementation have the potential to support the evolution of the All Asset strategies' investment process.
Founder and chairman of Research Affiliates, Rob Arnott, and CIO Chris Brightman discuss portfolio positioning shifts in today's evolving market conditions. Cam Harvey, partner and senior advisor of Research Affiliates, shares recent research efforts pertaining to the ongoing evolution of the All Asset strategies' investment process. As always, their insights are in the context of the PIMCO All Asset and All Asset All Authority funds.
All Asset All Access is published quarterly.
Q: How has the positioning of the All Asset strategies evolved in this year's market environment?
Arnott: When markets are quiescent, so are we; when markets are turbulent, we respond. Over the past few months, our portfolio shifts have been markedly dynamic. At the onset of the COVID-19 health crisis, the All Asset strategies were positioned defensively, as we discussed in our previous All Asset All Access. During the "take no prisoners" sell-off across global risk assets in the first quarter, we experienced two firsts – the fastest equity bear market from peak to trough in history and the highest spike in volatility – paired with even more tumult in other markets (oil briefly trading at $40 per barrel negative?!). (Sources are the S&P 500, the VIX, and WTI oil prices.)
As markets indiscriminately sold off during the "peak fear" months of March and April, we shifted into a more risk-on posture in the All Asset strategies. We trimmed our defensive positions and selectively rotated into what we saw as bargains with elevated multi-year return prospects, including EAFE stocks (Europe, Australasia, Far East), commodities, U.S. small-cap stocks, and REITs (real estate investment trusts).
The economist Ben Graham liked to distinguish a temporary loss of value from a permanent loss of capital: The former is a rebalancing opportunity; the latter is a disaster. Unfortunately, any bargain usually gets there for a reason: It looks to many like a risk of a permanent loss of capital, whether or not it really is. Bargain hunting usually means buying whatever is most out of favor – and whatever is out of favor generally has a reason it could continue to flounder. I've always believed that the right long-term strategy is to selectively and patiently buy what's cheap. We believe haste is a mistake, because we'll never catch the bottom price; whatever is newly cheap may very likely get cheaper before it turns. So value investing can be a deeply uncomfortable strategy before the market rebound. But, comfort is rarely rewarded, and never for very long.
Markets have now sharply recovered to pre-pandemic levels in most cases, fueled by aggressive quantitative easing measures, rate cuts, fiscal stimulus, and buoyant market sentiment. After re-risking following market declines, our strategies have shifted back to a more defensive stance as we look to take profits from resurgent risky assets, buy long bonds, and in the case of All Authority increase its U.S. short equity position. From the lows on 23 March 2020 through 31 July 2020, All Asset and All Authority have rebounded, delivering cumulative net-of-fee returns for the Institutional Class Shares of 23.40% and 24.41%, respectively.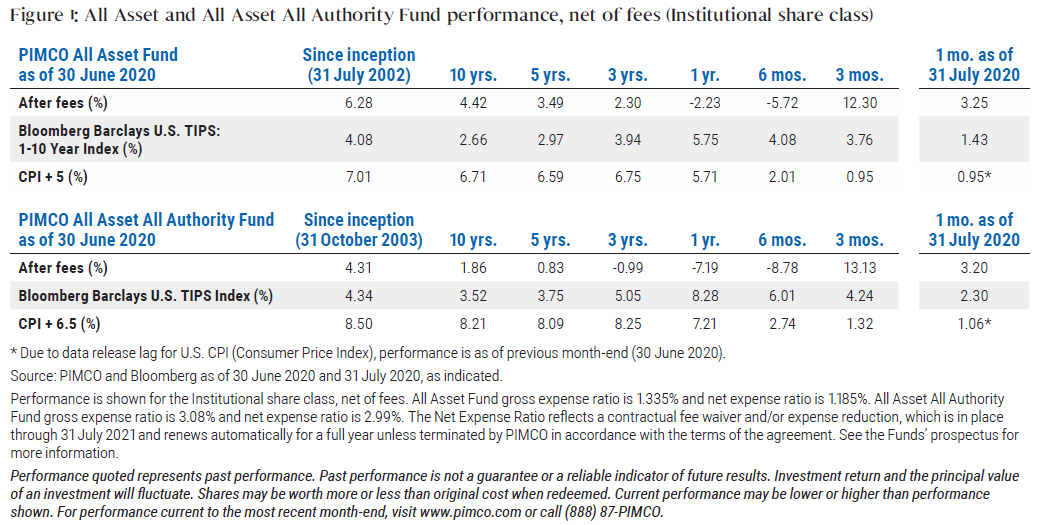 Image Pop Up
The next round of stimulus may push riskier assets higher, but at a cost of even lower long-term prospective returns, and even higher risk of potential inflation (albeit not immediate) as the ultimate "solution" for addressing the monumental level of U.S. debt. Yet our research suggests that assets that hedge inflation are – with few exceptions – currently trading at deep discounts relative to mainstream stocks and bonds.