Tax Cut Calculus Remains Complicated
SUMMARY
Tax Cut Calculus Remains Complicated
Proposed Tax Changes Shouldn't Trouble Housing
Onward With Abenomics
With our nest now empty, my wife and I are aggressively decluttering. We found a variety of things in the far reaches of our children's closets: old stuffed toys reminiscent of gentler times, and empty liquor bottles from…less gentle times. Both went into the bin, no questions asked.

We're now turning our attention to cleaning out the garage, which could easily occupy the next several months. We might need a dumpster to cart away the 25-year accumulation of junk. But I am reluctant to part with my tools, even though they have received scant use over the past decade. I used to enjoy working with my hands, and helped to build the deck and shed that adorn the perimeter of our house.

During my apprenticeship, I was taught the cardinal rule of carpentry: measure twice, cut once. That is not the tactic currently being taken by the U.S. Congress as it tries to rush tax reform through before the end of the year. The design of the program is still not clear, and passage is by no means guaranteed. But miscalculation during the process could introduce global costs.

The new cast at the White House arrived with strong opinions about the U.S. tax system. In their view, the code was too complicated and it was hindering economic activity. As we discussed recently, the corporate tax regime has come under particularly intense criticism for placing American firms at a competitive disadvantage.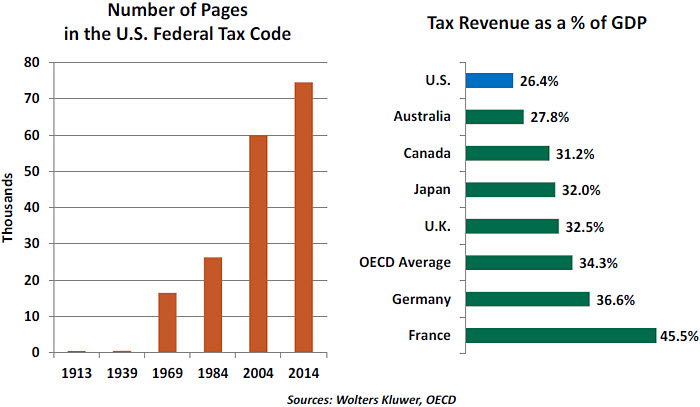 It isn't universally clear that tax cuts are needed. As shown in the chart above, the United States is far from a high-tax jurisdiction. And while reducing taxes should increase economic activity, few economists think that the cuts will generate enough incremental growth to keep the budget deficit from expanding. U.S. government debt has tripled since 2006, and deficit hawks have been loath to add any further to the total.