I met Aretha Franklin once. I am a big fan of hers; she has an amazing voice, and her songs contain powerful messages. (If you want a little inspiration, you'll find it here.) I'm not normally at a loss for words, but all I could muster was "Great music…thanks." What an embarrassing moment.

Aretha was a delegate to the 1996 Democratic Party convention in Chicago, along with more than 4,000 others. The scenes around town, both in the convention hall and in hotel lobbies, were almost circus-like. Party gatherings elsewhere in the world can also tend toward the theatric: witness the recently-concluded Tory Party conference in the United Kingdom, which included an ill-timed coughing fit by the prime minister and an intruder delivering her a termination form.
By contrast, this week's Congress of the Communist Party of the People's Republic of China was a rigidly ordered affair. There were no placards, no protests and no open debate. The proceedings were carefully choreographed and the outcomes pre-ordained. But what the event lacked in entertainment value will be more than offset by the impact of the policies that emerge from the gathering.
This 19th Congress, the first in five years, came at an interesting juncture. Economic growth in China is lower than it was at the beginning of the decade, but remains at a high level. On the back of this performance, President Xi Xinping has become the most powerful Chinese leader in the last forty years. (He was recently described by
The Economist
as "
The World's Most Powerful Man
.") Xi is expected to emerge from the party Congress with even greater power. The question is how he will use it.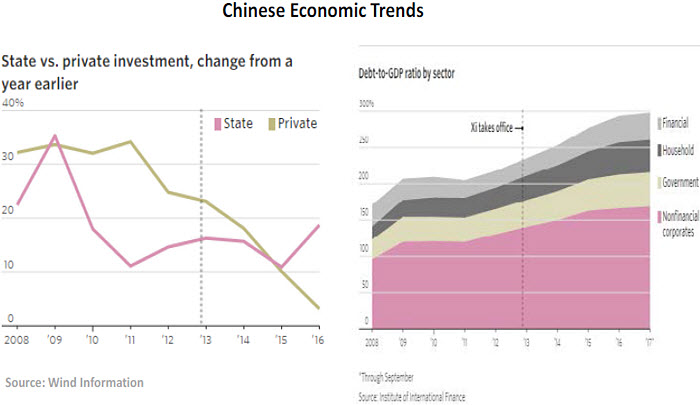 Forty years ago, Chinese Premier Deng Xiaoping began allowing more free enterprise. He called his program "socialism with Chinese characteristics." Market forces were invited in but carefully controlled; that has been the operating model ever since. During his opening address, President Xi heralded "a new era for socialism with Chinese characteristics," which suggests a continuation of that lineage.