The Fading Light of Monetary Policy
SUMMARY
The Fading Light of Monetary Policy
Chinese Capital Controls Are Working
Professional and amateur astrologists in America were all agog this past Monday, during the total eclipse of the sun. It was the first eclipse to traverse the breadth of the continental United States in nearly 100 years. Given my luck, it was not surprising that the skies over Chicago were cloudy when the event took place.

The path of full blackout passed through Jackson, Wyoming at 10:17 local time that morning. Later in the week, monetary policy luminaries from around the world assembled in that location to shed light on the pressing economic challenges of the day. Among those in the spotlight during the conference was European Central Bank (ECB) President Mario Draghi, who tried desperately to align the stars behind him.

Draghi's current dilemma illustrates the double-edged sword of unconventional monetary policy. Central bank asset purchases and forward guidance were pressed into heavy service when interest rates reached their zero lower bound. These programs have enjoyed success, but communicating and engineering an orderly retreat will not be easy.

The eurozone has been the brightest star on this year's economic horizon. The region's output expanded at a 2.5% pace during the second quarter and has been rising continuously for 48 consecutive months. Even countries that had been lagging in their progress are showing better outcomes: Italy is growing at its fastest rate in six years, and we covered Spain's improving fortunes last week. Forward-looking indicators across the continent suggest even better times ahead.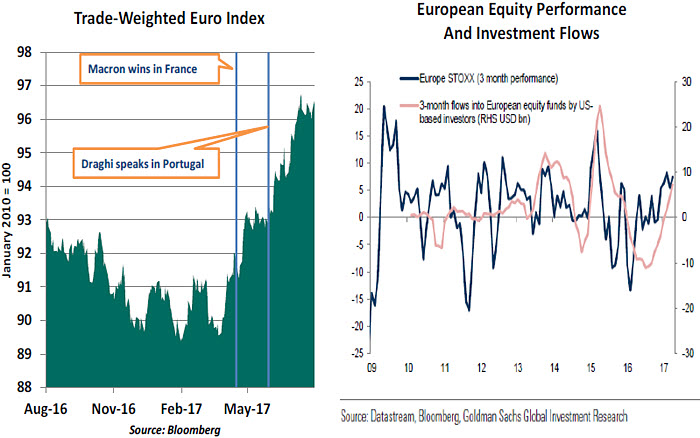 The improving outlook in the eurozone is built on a series of factors. The political risk that was present at the start of 2017 has faded; populism is in retreat and existential threats to the European Union and the euro have diminished. Financial conditions in the eurozone are more supportive: banks are healthier, interest rates are down and markets are buoyant. And because its recovery took longer to take root, Europe may have more capacity for growth in the coming years than the United States.

Eurozone equities have rallied powerfully on the back of these developments, attracting considerable amounts of foreign capital. To enter the region's markets, investors have to acquire euros; this has added steam to the recent rally in the value of the common currency.



Mario Draghi furthered the euro's momentum with his remarks at a June conference in Sintra, Portugal. "All the signs now point to a strengthening and broadening recovery in the euro area," he noted. While the full text of his speech was fairly balanced, analysts ran with the headline and assumed that Draghi was signaling intent to reduce the ECB's asset purchase program.

The strength of the euro is both a blessing and a curse for the ECB. It is a justified reflection of improving economic prospects and helps to stabilize and strengthen Europe's asset markets. But it is also a problem: the eurozone relies on exports of goods and services for 27% of its gross domestic product (GDP), twice the level of the United States. A stronger euro makes these offerings less competitive.

Further, the eurozone imports goods and services in amounts equal to 23% of GDP. An appreciating currency makes things more affordable for consumers, but cheaper imports also make it harder for the ECB to achieve its 2% inflation target. Eurozone inflation has fallen since the early months of 2017 and now stands at just 1.3% over the past year. The minutes of the July ECB meeting noted "there was a risk that financial conditions could tighten to a degree that was not warranted by the improvement in economic conditions and the outlook for inflation."