Europe Is On The March
SUMMARY
Europe Is On The March
Getting Women To Work More
Feathers Fly At The Bank of England
I've just begun a long stretch of work in Europe. The schedule is challenging, but there are moments between meetings that allow a look at the beautiful scenery. The early summer finds the air clear, gardens flush and cafés full during long evenings. The conditions are ideal—at least for those with leisure time.

Economic conditions in Europe may not be ideal, but they are looking better than they have in quite some time. After suffering through a crippling recession, acute concern over government debt, and an existential threat from populism, the eurozone (the community of countries who share the euro as their common currency) now seems poised to perform at a higher level. Investors are newly optimistic on the region and are backing their positive expectations with capital.

While the worst may be in the past for Europe, its path forward is complicated. There remain significant structural limitations that constrain economic growth. Progress has been uneven within and across countries; unless fortunes converge, populist forces may re-emerge. New leadership brings hope for change, but Europe's window of opportunity may prove to be brief.

The eurozone is more than twenty years old. For the first decade of its existence, the association brought prosperity to its members, who were happy for the association. The past eight years, however, have been a different story.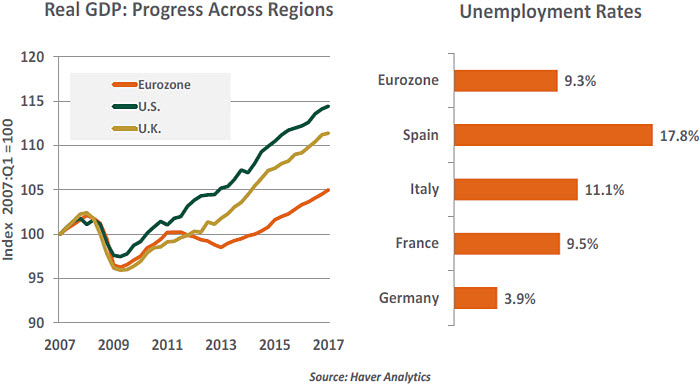 Europe was drawn deeply into the global financial crisis, and endured a sovereign debt crisis just three years later. As a consequence, economic growth in the eurozone has lagged well behind other developed markets and unemployment has remained at high levels across most of the area.

There are a series of reasons for this underperformance: