Fintech Bright Spot Africa Catches Up in Bumper Funding Year
(Bloomberg) --
Fintech companies in Africa raised more capital despite the Covid-19 pandemic, standing in contrast to their emerging-market peers such as Latin America that saw a decline.
The continent saw fintech funding, including mergers and acquisitions, grow to $1.35 billion last year from $1 billion in 2019, according to a report by BFA Global's Catalyst Fund and Briter Bridges published on Thursday. While Indian and Latin American fintech companies still raised more money than those in Africa, their volumes fell from the previous year as they battled to close later-stage deals.
"The numbers of pre-seed and seed deals in Africa are increasing," the report said. "While Latin America and India are seeing a growing number of mega-deals African markets are only beginning to see a few such late-stage deals."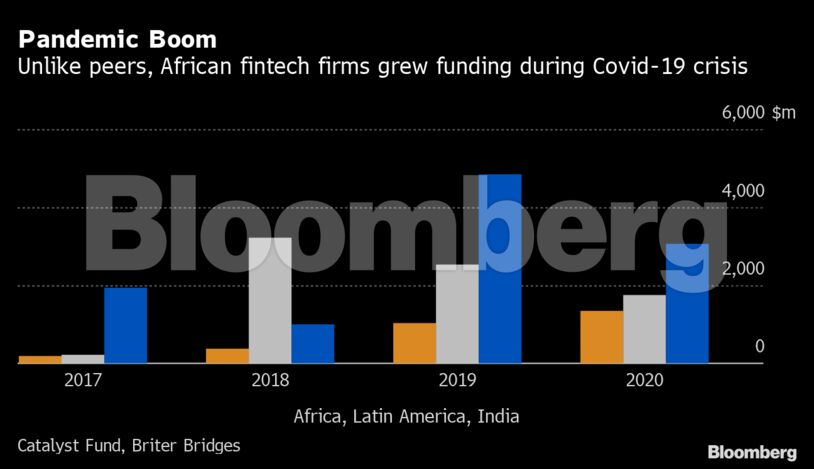 Africa's growing population of 1.2 billion people, rising smartphone ownership and a drop in Internet costs are among the factors contributing to the region's allure. Investors also see opportunity among its large unbanked population of 350 million, which accounts for 17% of the global total.
Most investments on the continent flowed to Nigeria, Kenya and South Africa, according to the report, which surveyed 177 startups and 33 impact investors across emerging markets.