Stocks Are Outperforming Bonds by the Widest Margin Since 2013
Investors awash in optimism have bid up equities to their best start of the year relative to bonds in almost a decade.
The S&P 500 climbed more than 4% in the first 28 trading days of 2021, while long-dated Treasuries lost more than 5%, according to data compiled by Bespoke Investment Group. The 9.3 percentage point gap in performance is the biggest to start a year since 2013.
The reason for the divergence is simple, according to Bespoke's George Pearkes: The economic outlook is brightening. Reflation bets are building across asset classes as the Covid-19 vaccine rollout accelerates and investors anticipate further fiscal aid. Meanwhile, analysts upgraded their 2021 earnings forecasts in January at the second-fastest rate to start a year since 2013, data compiled by Bloomberg show.
"Yields are up because the outlook has improved," said Pearkes, a global macro strategist at the firm. "It's pretty much that simple. Higher expected earnings, higher stock prices."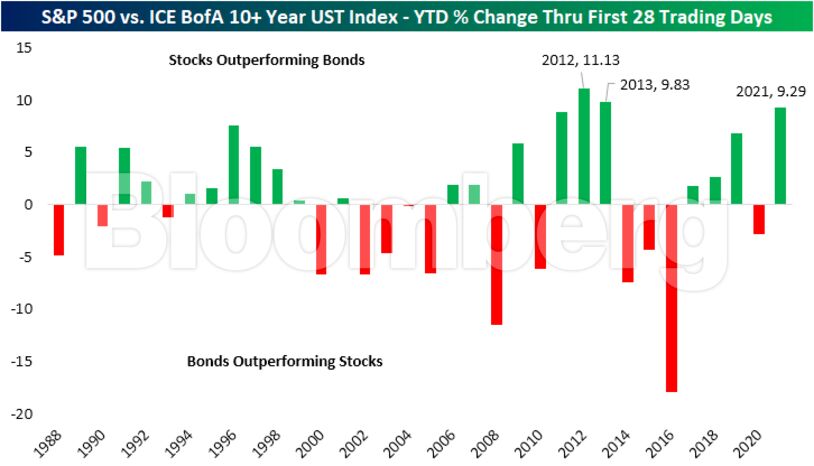 Five-year breakeven rates -- a proxy for investors' estimates of inflation -- rose to the highest level since 2013 this week, briefly lifting yields on 30-year Treasuries above 2% for the first time in a year. That's helped push cyclical stocks higher, with energy and financial shares among the best performers in 2020.
That momentum wobbled on Wednesday after a cooler-than-anticipated inflation report, pushing Treasury yields lower while the S&P 500 ended flat. However, equity futures climbed Thursday in early trading while rates drifted higher.